Turkish Artist Coplu was in Singapore from the 22-28th April 2019 on a trip sponsored by Ode to Art gallery, to share the wonderful joys of art, colours and painting with us. On a vibrant 3 day journey, Coplu worked alongside cliental and students of the St Andrew's Autism Centre to create a magnificent work of art, featuring a two panel, 2 metre by 3 metre diptych, showcasing his quirky and playful oeuvre of love and sentimentality.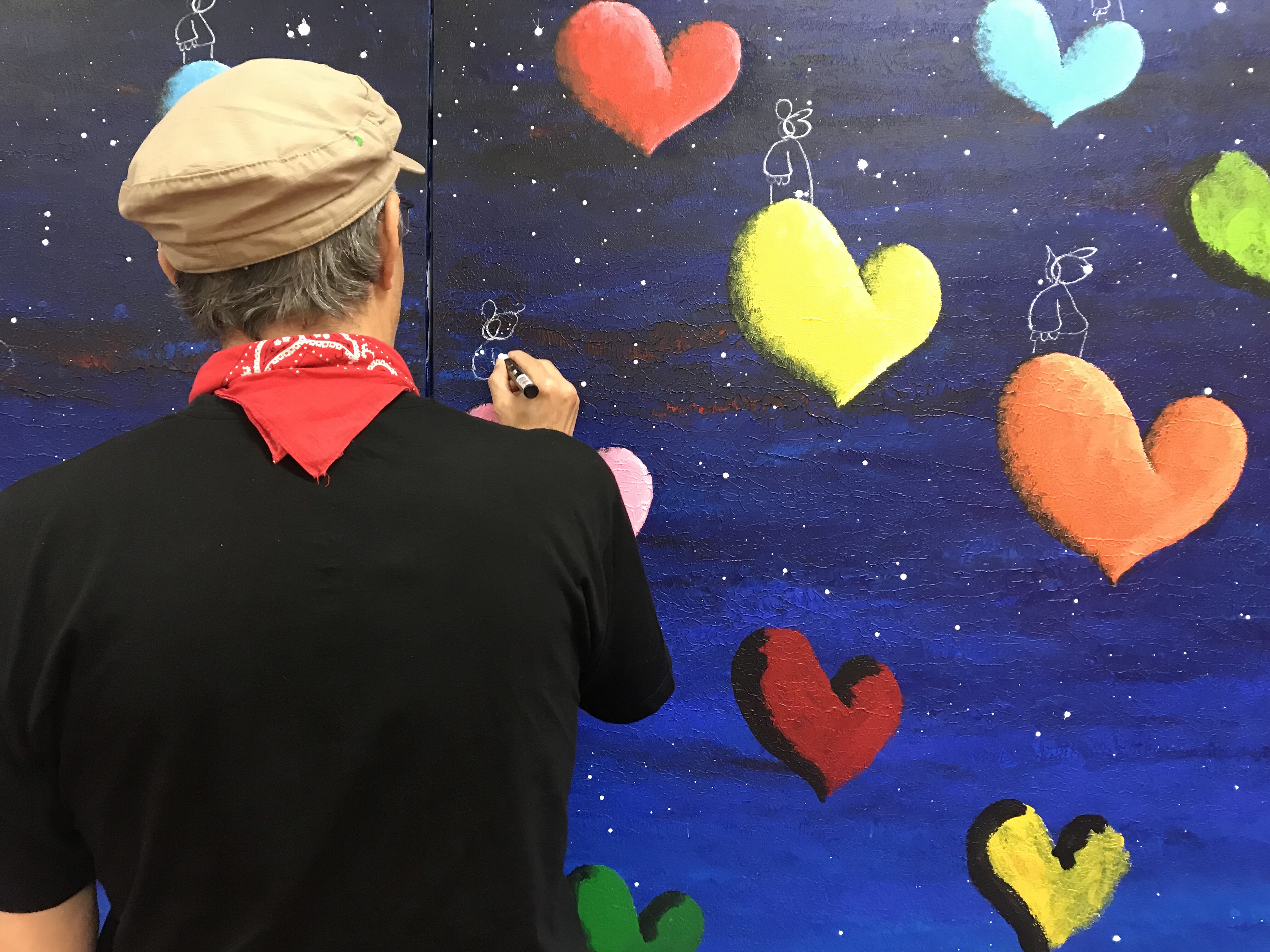 St Andrew's Autism is an independent organization focused on the rehabilitation and education of clients with moderate to severe autism, with patient caregivers, teachers and volunteers dedicating their time and efforts to ensure a high quality of life for those on the spectrum. In our collaborative effort with artist Coplu, we aimed to spread the joy and intrinsic gratification art brings into the lives of cliental, and add beauty to the centre life by donating this collaborative art work, for those who have dedicated themselves to the cause. Coplu is renowned for his brilliant use of saturated and dreamlike colour schemes, as well as his playful and simple composition, carrying across his messages of love, life, relationships and peace in a manner that is both accessible and beautiful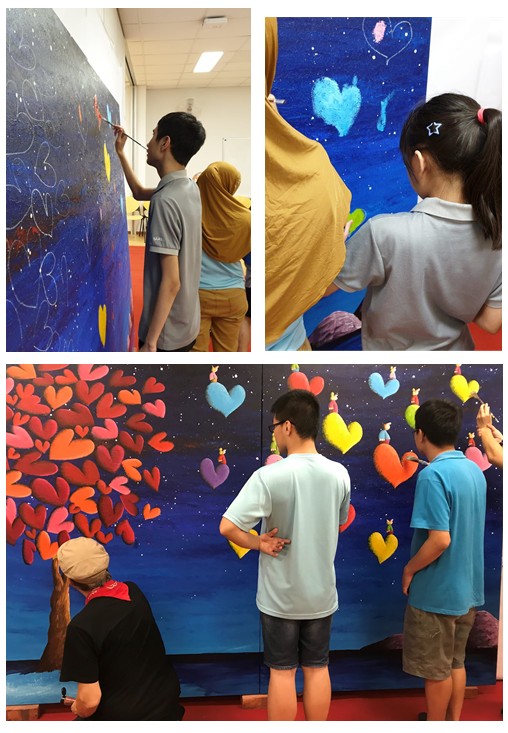 Working patiently, the artist shared the canvas with groups of creative and talented cliental, who under the instruction of the artist and their supervisors, painted along the outlines of Coplu's drawings, adding colour to the large canvas. Expressive, careful and articulate in their motorskills, the clients exhibited a strong interest and ability in making their mark on the work, making this piece a unique, one of a kind production between artist and the members of the centre.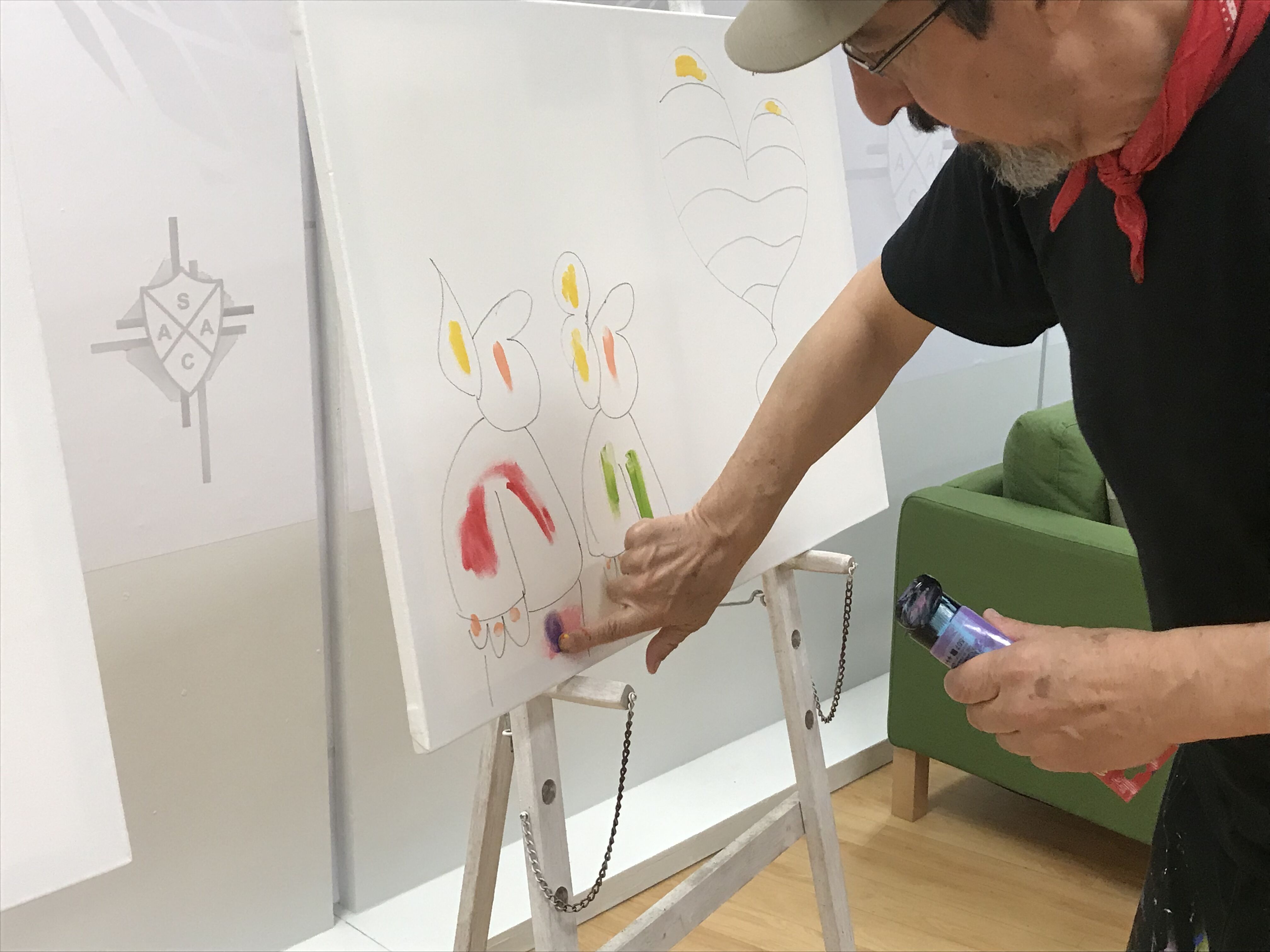 Tying in with SAAC's aspiration to provide a safe space for their cliental to express and develop their true potential, Ode to Art believes that Coplu's idea of "adding colour to life" shows how art as a medium to enrich the lives of individuals in the centre, providing them with an opportunity for exposure to and interaction with someone who successfully pursued art as a career. Aside from creating a custom piece of art, Coplu's warm, jovial spirit came through for the cliental as he voluntarily stepped up to the challenge of entertaining and occupying the creative minds of the centre who did not get a chance to help out on the main piece, by drawing on separate canvas for them to work on.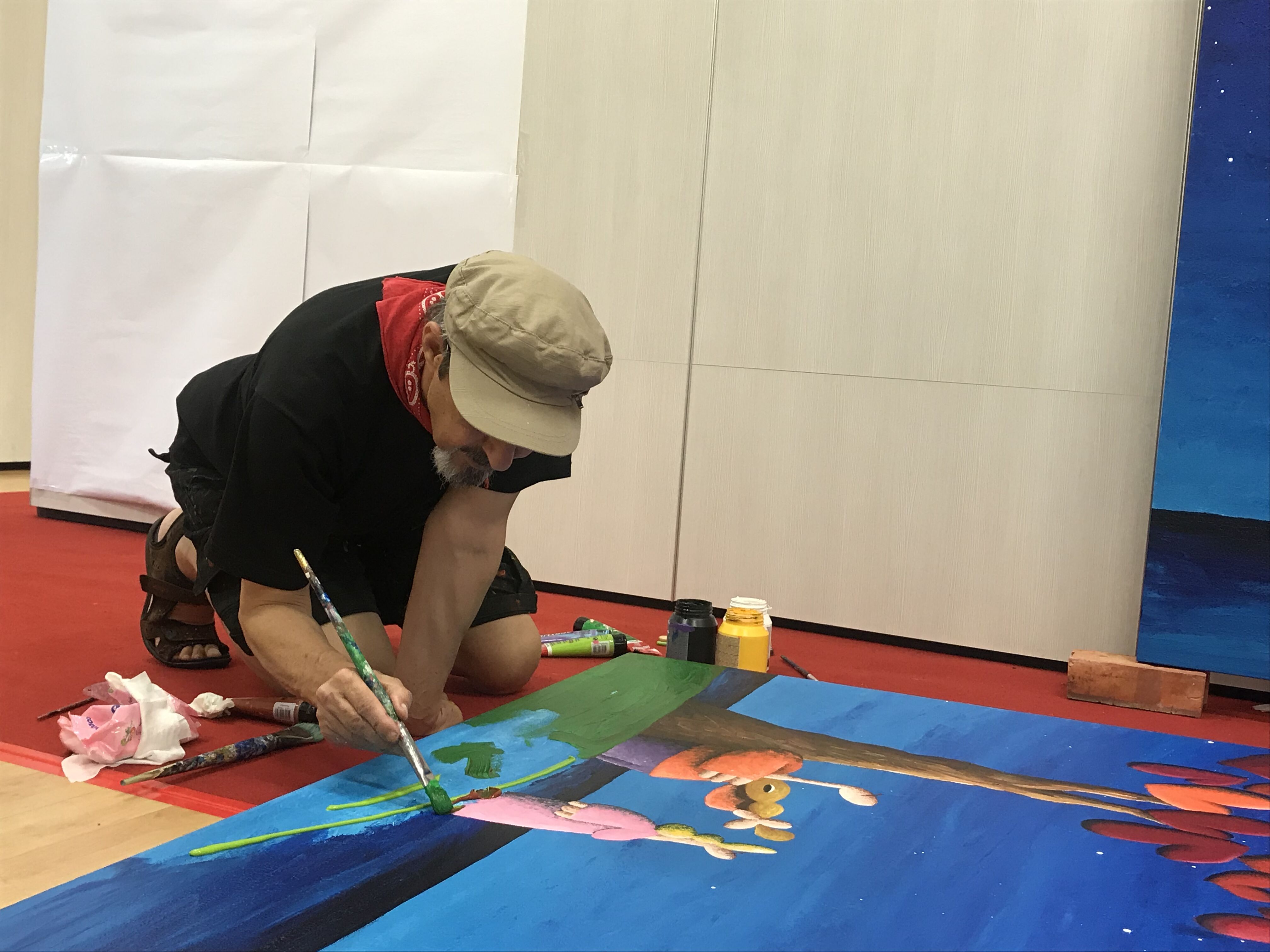 The process of art creation and finding ones artistic style is long and arduous, but the outcome is often times something beautiful and worthwhile. Similarly, caring for an individual with autism is no easy feat, but providing them an opportunity for growth, happiness and education will allow them to discover themselves and potentially become functional, noble contributors to a society.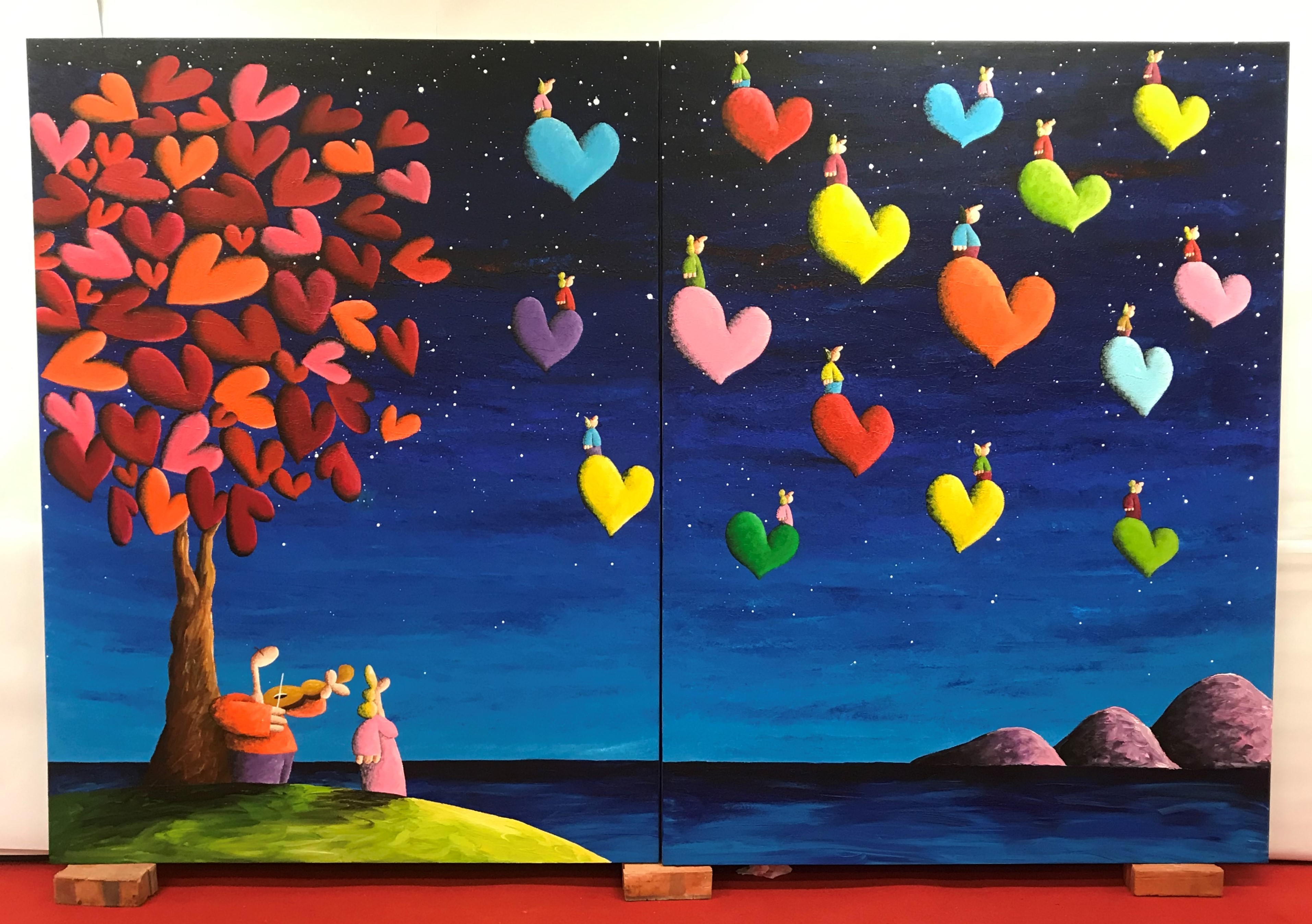 The SAAC's cause is one that is brilliant and infinitely commendable, enriching the lives of hundreds of cliental. We hope that through meeting and working with Coplu to create this wonderful painting, clients and students of the centre will be reminded to have hope and passion for the arts and their own lives, as well as the potential for love and kindness in the world.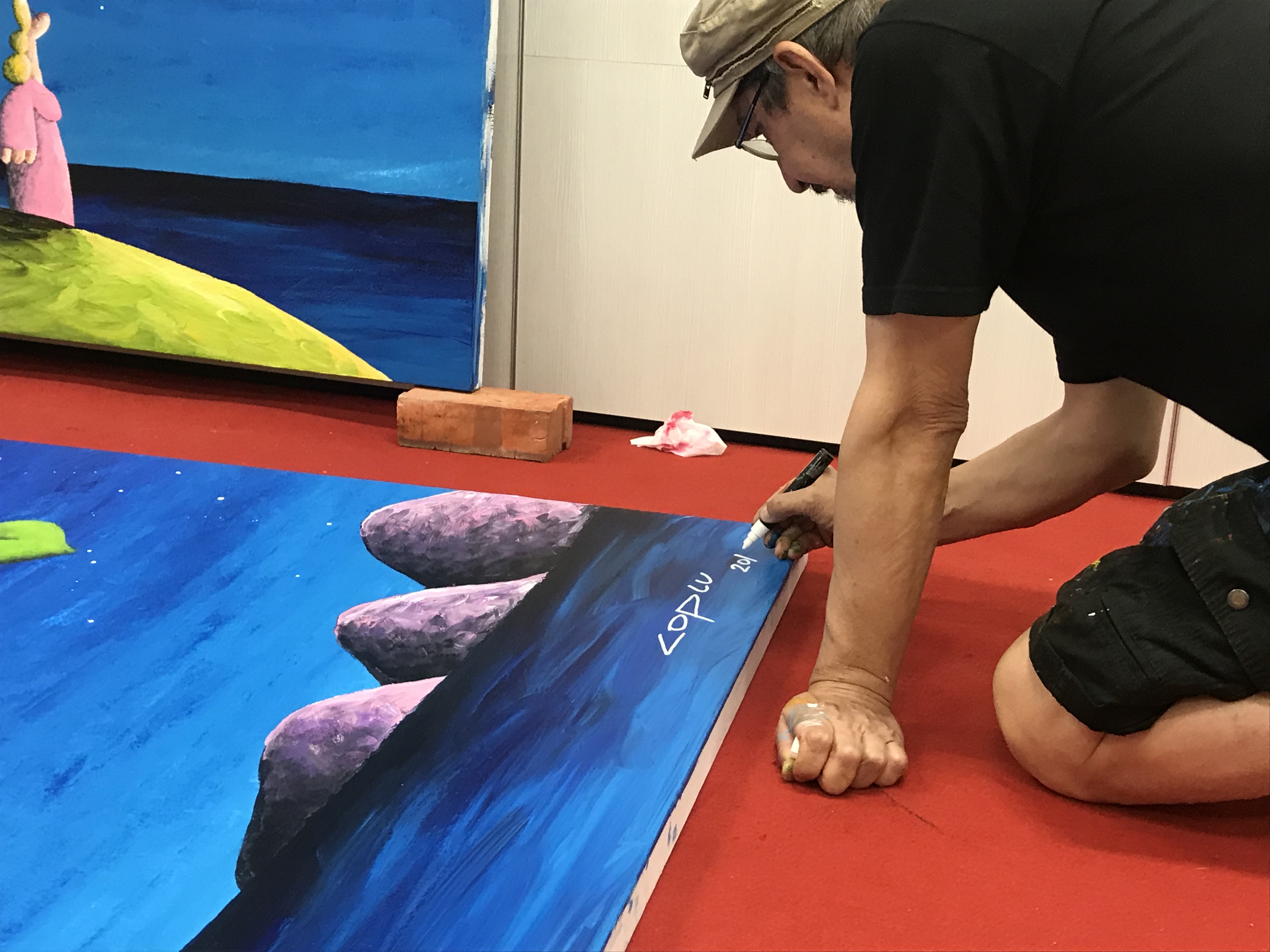 Born in the Turkish town of Ushak, Coplu's journey as an artist began when he was a young child. His mother was a weaver, and taught him about figures, the meanings of patterns and also the profound, emotional effectiveness of colour. The influence his childhood has over his art making process in unabashed, and comes through in his works in the form of innocent imagery of hearts, flowers and happy relationships. His depiction of life in a positive and hopeful manner, vibrant colours and heart-warming motifs has brought smiles to its viewers since the start of his illustrious career.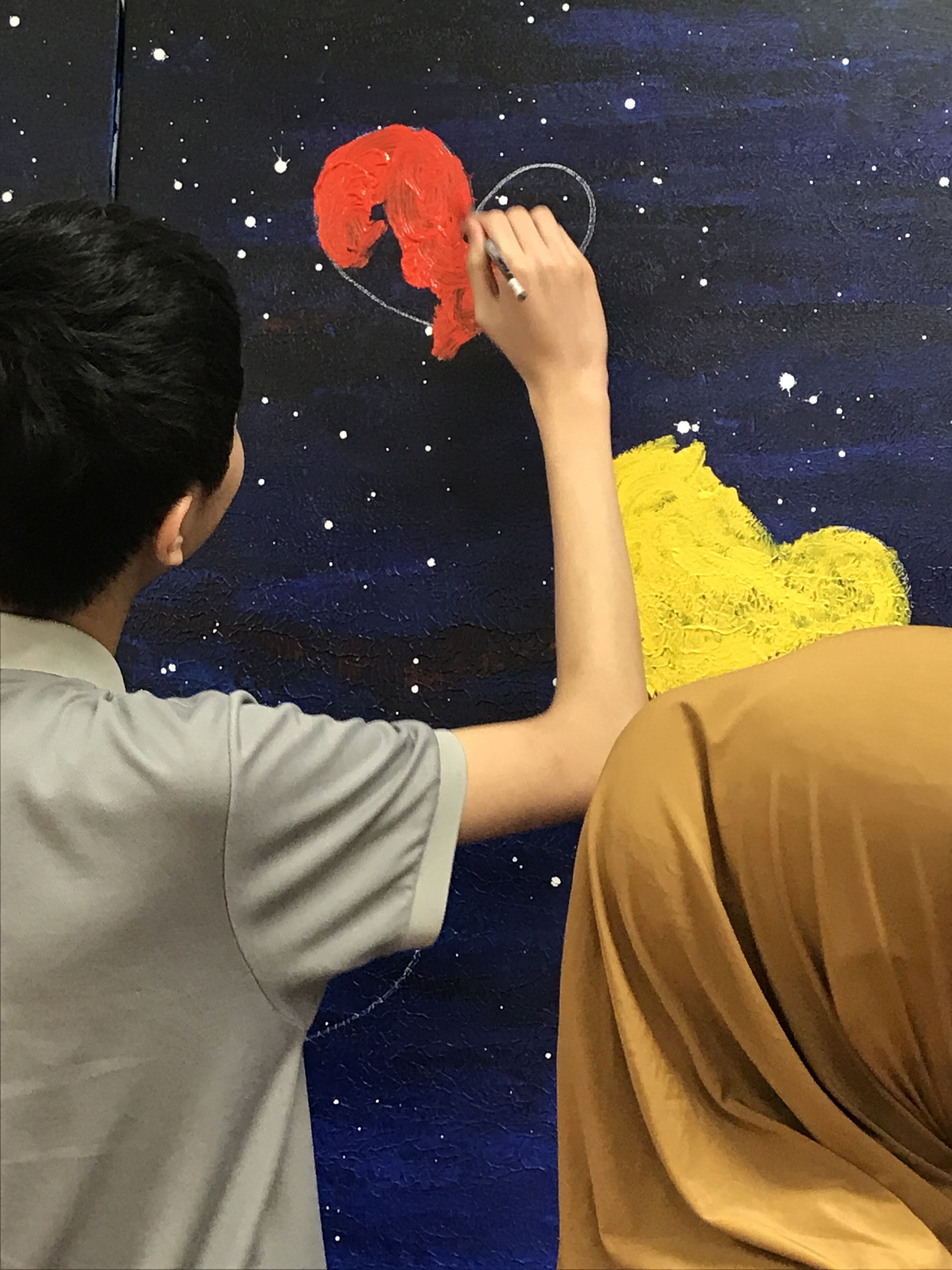 We at Ode to Art would like to thank SAAC for their hospitality in this wonderful collaborative effort, and for their undeniable civil service and contribution in bettering the lives of these special, brilliant minds in our society.