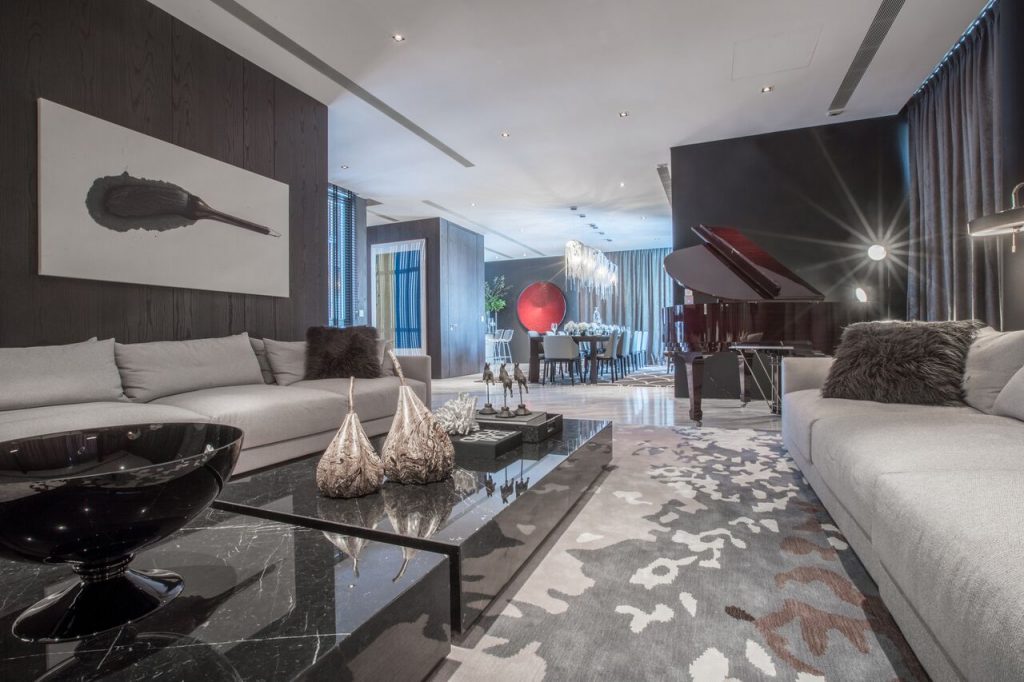 Inspired by the luxurious elements of Italian interior design, the sleek, modernised look of the home's living room with its largely monochromatic scheme, is punctuated by the hyper-realist, painting of brush and ink by Korean artist Lee Jung Woong (b. 1963). Artfully skewered to the far right, the off-centre composition intends to draw the viewer's eye to the kitchen and dining area beside the sofa spread. Here, the use of analogous colour schemes shows how a piece of art can complement and complete a room through the use of similar colour sets. The grey, blacks and browns of the painting go nicely with the black, white and metallic embellishments of the living room.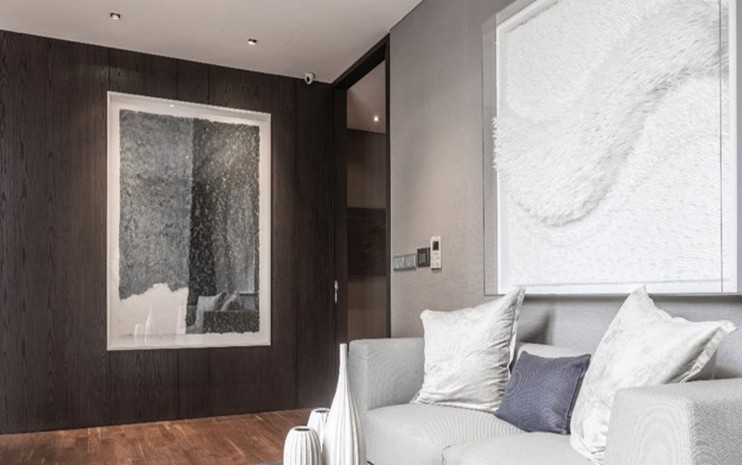 In a similar style of monochromatic schemes, on the second floor, a cloud-like piece by Indonesian artist Dedy Sufriadi (b. 1976) and a black and white ink work bring softness to this light-filled space. The square compositions both face glass walls and seem to open windows to other, quieter worlds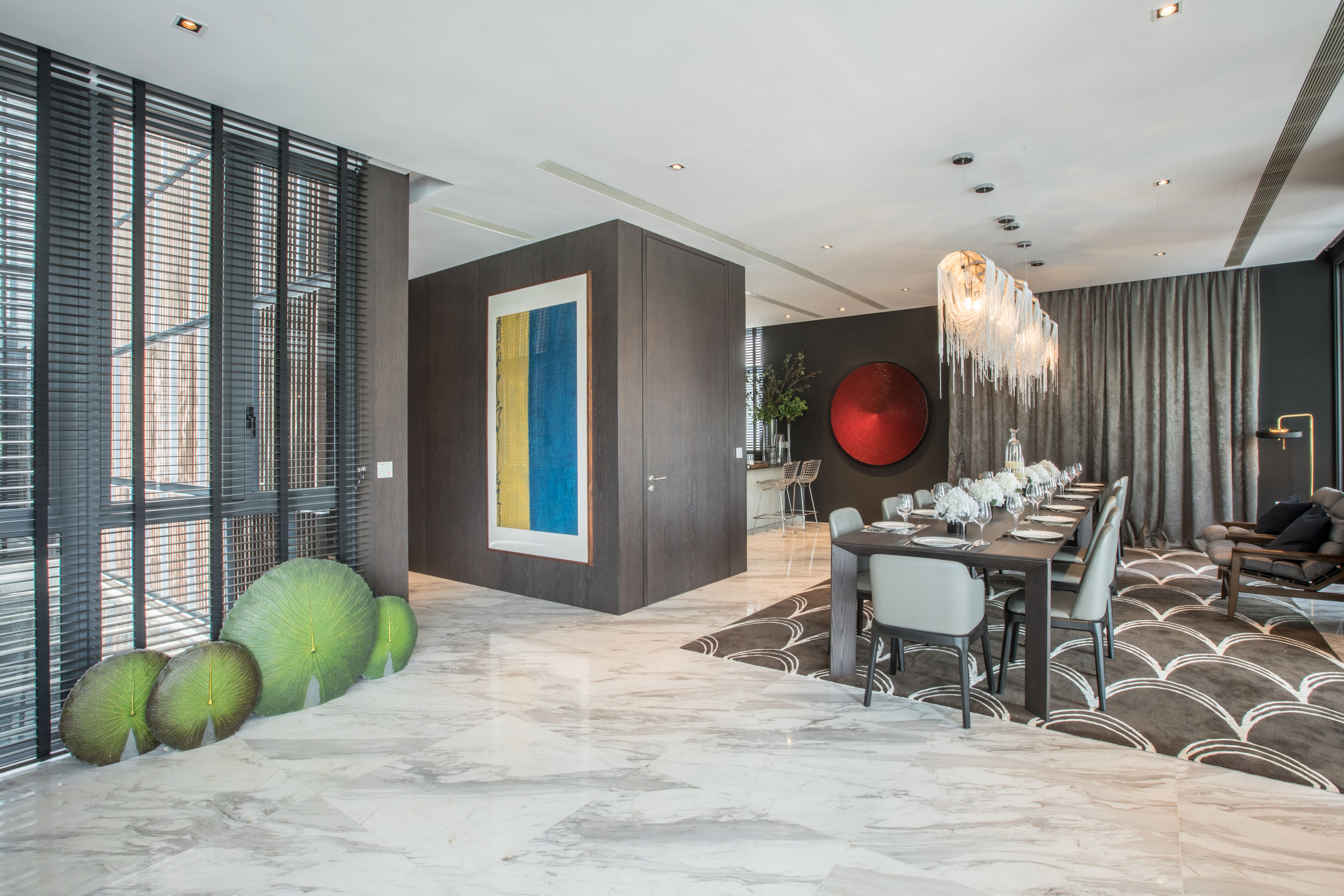 The home, with its extensive wall space and floor plan, lays host to a wonderful opportunity to display art in all its glory. Against elegant dark walls, light marble tiles and chic metal window panes, the true potential of our colourful cotemporary pieces come through. The family enjoys entertainment at home, so having strong pieces in the dining area was capital. With plain walls and floors, a recommended choice of art could be ones that are rich in colour and explorative in form, standing out and becoming centerpieces in a home with their bold presence against a more muted background.

The artwork by Chinese-born Hong Zhu An (b. 1955), who is regarded as one of the finest artists in Singapore today, is a highlight on the dark-coloured wall with its vivid yellow and blue colour accents. Discreet ink work on the side adds a sophisticated Asian touch to the contemporary painting otherwise more reminiscent of a western colour-blocked style. The round, crimson art piece by Taiwanese artist Howard Chen (b. 1971) is a powerful presence in the room. Entirely made of nails, the art work with its industrial material and rich, almost luminescent red finish gives off a modern and urban elegance, one that immediately pulls our attention to the bar area, where guests gather for lively conversation.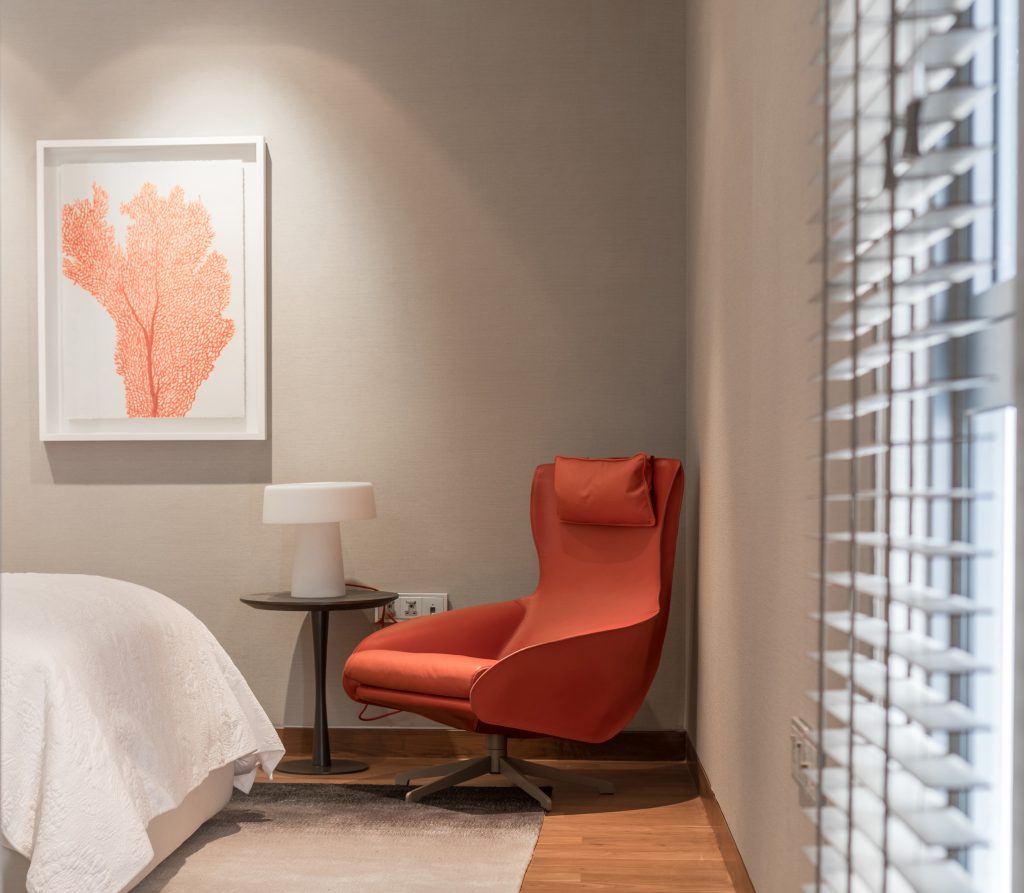 Another artistic option is the use of similar colours in artworks, directly matching them to your interior furniture and layout. An example is this botanical piece, delightfully sharing a space with a designer chair in a shared shade of tangerine orange in the guest room, bringing a lovely hint of warmth into the clean, contemporary finish of the space.
Our project at Pearl Island has also landed us a spot in Sotheby's International Realty Selections Magazine this year, and we are beyond delighted and appreciative for being part of this prestigious publication. An online copy of this is available via this link.
http://publications.listsothebysrealty.sg/books/saqz/