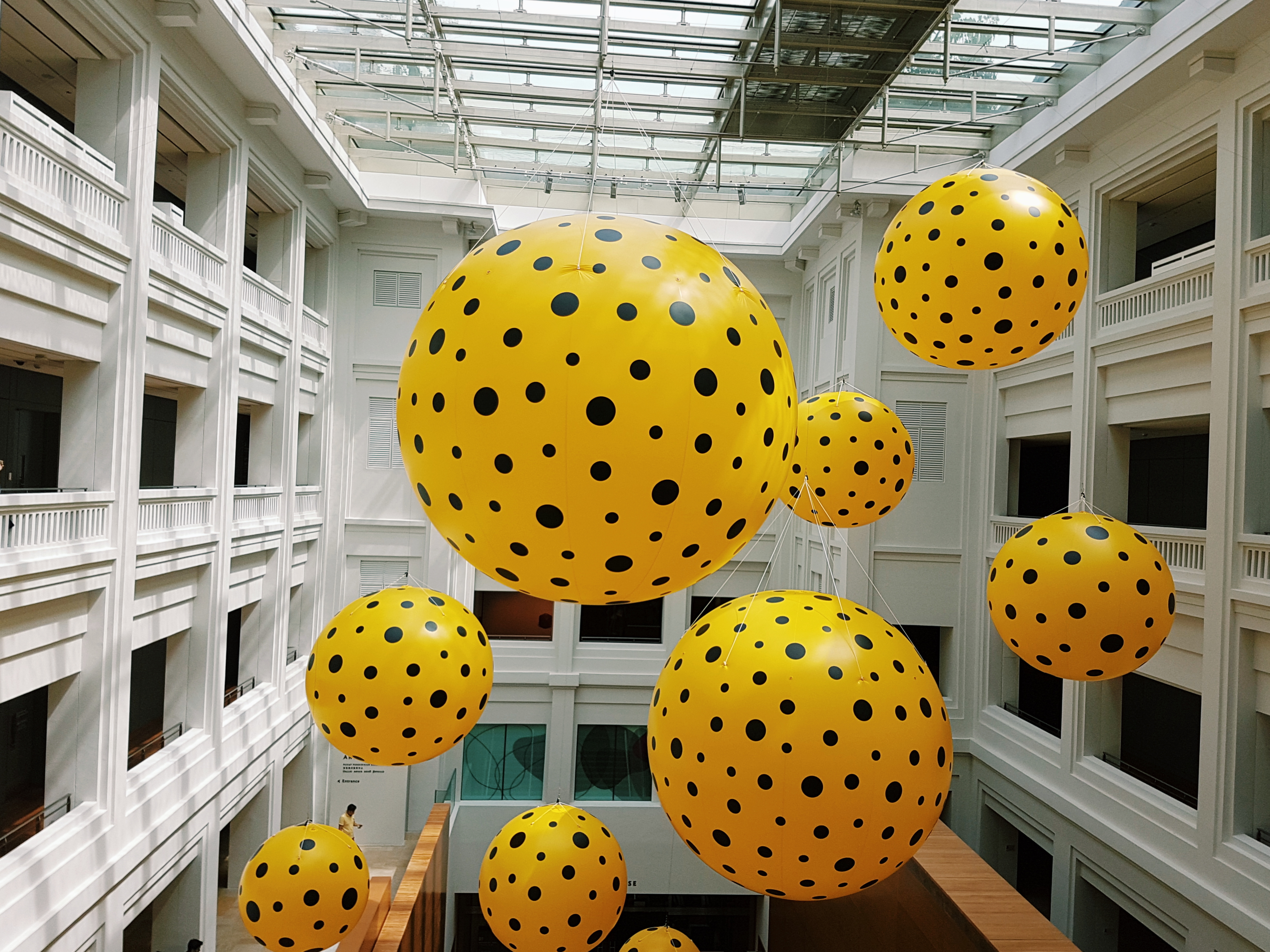 Ode To Art's Top Picks: Yayoi Kusama at the National Gallery Singapore
Written by Sng Yi Xian Issa | Posted 28 Jul 2017

Yayoi Kusama's Life is at the Heart of a Rainbow at the National Gallery Singapore is the most talked about exhibition this summer. What's all the fuss about? This is the first major survey of the Japanese artist's illustrious career in the Southeast Asia region. Despite being nearly halfway through its run, the crowd has not subsided. The Ode To Art team would like to share our top picks at the exhibition, and even offer some Kusama pro-tips for visitors who are short on time.
1. Kusama's many Infinity Nets
No. A (1959)


When you hear Yayoi Kusama, dots immediately come to mind. Her oeuvre is filled with recurrent motifs of dots and infinity nets that she has used and developed over decades. Deceptively simple, these expansive fields of dense, repetitive pattern reflect a disciplined and highly laborious artistic process. Kusama has explained that these images stem from childhood hallucinations. Although she eventually outgrew these visions, they have certainly left an impact on the artist.
Dubbing the process as 'self-obliteration', Kusama created these lattices over and over again as a means of catharsis and to feel part of the world. We found the paintings of infinity nets very immersive and often lost our gaze within the mass. However, beyond the beauty, what struck us more was how an artist could be so thoroughly obsessed with a single element for nearly 60 years. Her consistency is truly incredible, to say the least.


2. The Spirits of the Pumpkins Descended into the Heavens (2017)


Unabashedly bright colours, polka dots, pumpkins and mirrors, we daresay this installation embodies the signature elements associated with Yayoi Kusama's mature style. We really enjoyed the interactivity in Kusama's works, something not often found in the National Gallery (which officially houses pre-contemporary works). Kusama's room-sized installations are highly immersive and invite viewers to experience the space with their all; in this case by sticking their heads into the reflective cube. With this 'room in a room' we had a real 'Inception' moment. The Spirits of the Pumpkins Descended into the Heavens is a delightful visual spectacle, creating an 'infinite' realm of pumpkins within the confines of a cube.


3. Left-over Snow in the Dream (1982)






Left-over Snow in the Dream stands apart from the whirl of colour that is Life is at the Heart of a Rainbow. Painted in a sterile white, this soft sculpture work corresponds to a tumultuous period in Kusama's life where she admitted herself into a mental institution. The phallic and sac-like forms risk overflowing from the confines of the rigid boxes. Pristine yet abject, this work hints at the clinical and regimented lifestyle she experienced as a patient.

4. With All My Love for the Tulips, I Pray Forever (2013)


Let's be real here. What's not to love about a room covered from top to toe with colourful dots and giant flower pots? The space is entirely surreal with tulips as tall as trees, and left us feeling like Alices in Kusama's Wonderland.


5 + 6. Love Forever & I Want to Love on the Festival Night


Can't afford to wait in line for the insta-famous Infinity Room just to get a mere 30 seconds to be awestruck AND take a selfie? Instead, we recommend heading to I Want to Love on the Festival Night, a large mirrored cube within the Love Forever gallery. This gallery contains a series of 50 monochromatic canvases with repeated chain images of eyes, faces, profiles, flowers and blades. Lined up together, the individual canvases form a beautifully unsettling composition. Despite all the glitz and glamour found in Kusama's colourful installations, there is something very alluring about her simple line drawings. It engenders a more fundamental connection to the artist; back to basics, as they'd say. After enjoying these intimate line drawings, we stumbled across what appeared to be a lifesize reflective cube.

From the outside, this work seems rather unassuming. However, stick your head into one of the viewing holes and be momentarily transported to an infinite arena of dazzling lights. This stunning light show feels almost unexpected in the unembellished Love Forever gallery, and creates an interesting visual contrast between the two works.






My Eternal Soul



Life is at the Heart of a Rainbow guides us through Yayoi Kusama's long career, plotting key periods and transitions in her artistic journey. Spanning multiple galleries, we start from her early oil and gouache paintings, and conclude with the dotted room installations that have become synonymous with her name. There's something for everyone at Life is at the Heart of a Rainbow — children squeal in glee at the Obliteration Room; teenage hipsters can snap insta-worthy pictures; Kusama fans can relish in this art superstar's journey. For the undecided, we hope we managed to convince you to brave the crowds and experience your day of dots at the National Gallery Singapore. Get ready to go Kusama-krazy!

Life is at the Heart of a Rainbow is will be exhibited at the National Gallery Singapore till 3 September 2017