Igniting Performance Art in Singapore


'Performance art is absurd, shocking and nonsensical!' These are leading thoughts in people's mind about the odd art form. Performance Art mostly involves a performer, that is usually the artist him/herself, with an engaging audience viewing a live act or recorded documentation. Performance artists are highly idiosyncratic as they express themselves in a unique and tactful way.

Art in post-independent Singapore inaugurated with what is known as the Nanyang Style, a small regional Art movement augmented by Singapore Pioneer Artists that established a footing for the development of art and culture in Singapore. With the vision of cultivating a Renaissance City, Singapore conforms with global artistic movements, while practising artists devise new creative ways and art forms to express their art. The Artists Village is a contemporary art group in Singapore, promoting avant-garde performance and installation artists that sought to find achievement in this medium.



(Performance by The Artists Village, Image by tav.org.sg)


Tang Da Wu, one of Singapore's most eminent contemporary artist who founded The Artists Village in 1988. He began his art with paintings and installations, before initiating his first few performance pieces he became known for. His passion for Performance Art further led him to conduct it as the doctrine of his art-making. His acclaimed pieces Tiger's Whip and Don't Give Money to the Arts employs Performance Art's ingenuity to acquire critical social-environmental commentary that is fundamental in Tang's principles of art.

Tiger's Whip comments on the dubious Chinese belief that a tiger's phallus is able to increase virility and male potency, and how it has motivated the endangering of the threatened species. Tang himself tours around the display of life-sized tigers, with various symbolic readymades used for different performances. He dons a white garment, playing the role of the poacher, the tiger and the consumer. Tang speaks dramatically to the audience while interacting with the tigers and readymades based on instinct. The work leverages on audience engagement using animatic acting, while the dynamics of the profound performance strikes the audience as they mull over the absurdity of the Chinese conviction.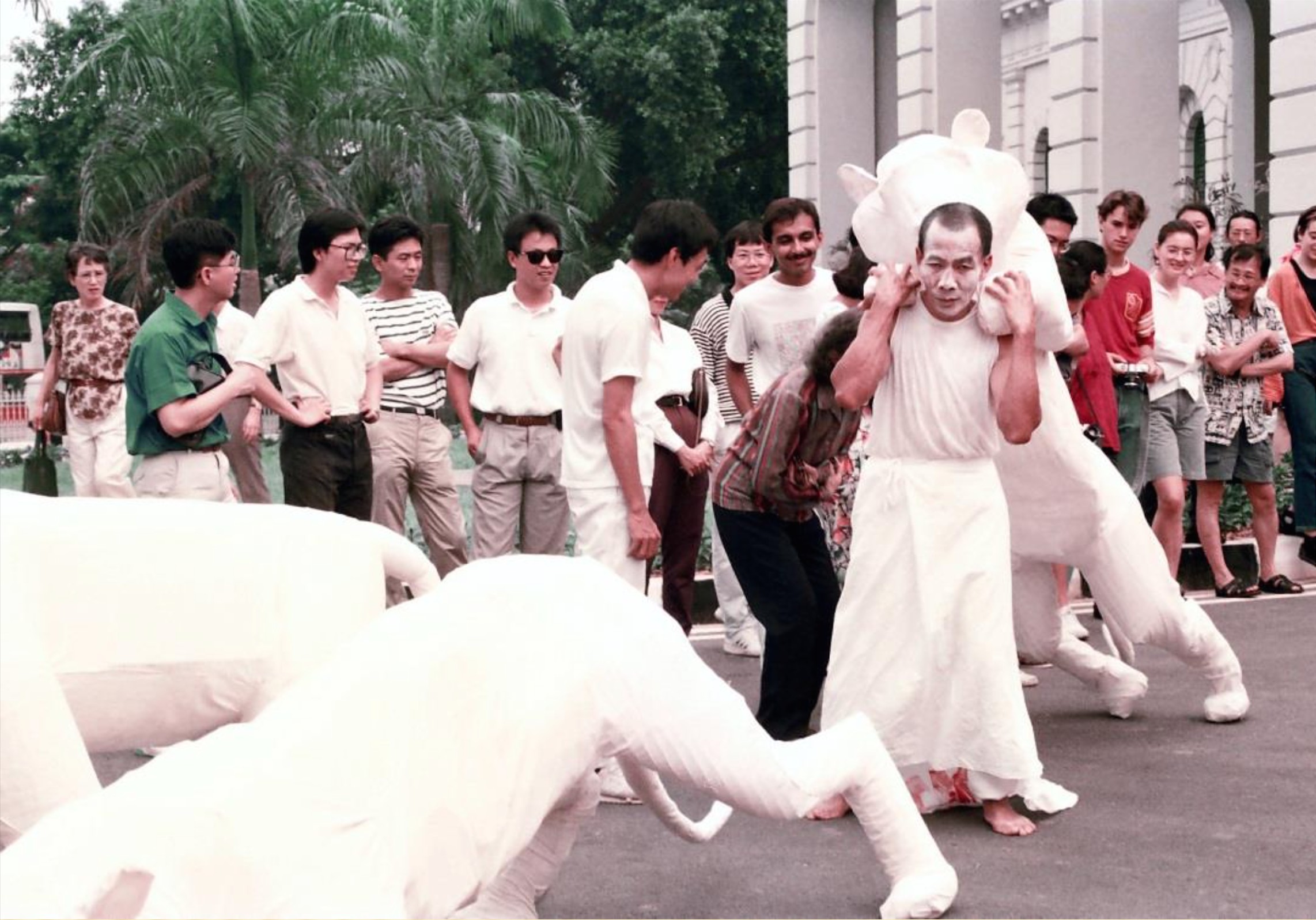 (Tiger's Whip
performance by Tang Da Wu, National History Museum)
Lee Wen was a notable member of The Artists Village, also one of Singapore's most internationally recognised contemporary artist. He is best known for his Journey of a Yellow Man performance series, in which his entire body is coated in yellow pigment, an expression of his Asian identity. He realises inspiration after his encounter with racism and stereotyping against him while studying in London, a predominantly white society. The yellow man has shown up in various cities, dismantling notions of identity before puzzling them with a new interpretation. Being completely yellow is alike having a full-body mask, embodying another persona being perceived differently.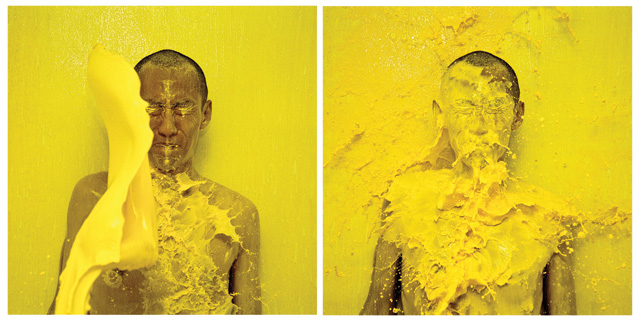 (The Yellow Man, Image by sea-globe.com)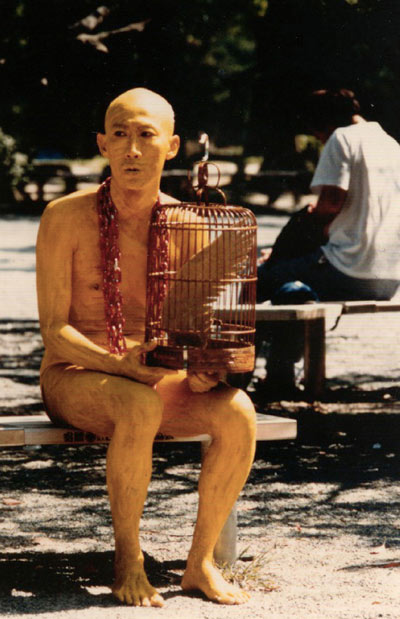 (Yellow Man performance by Lee Wen)
A Turn of Events

The journey of Performance Art in Singapore is an interesting one, with its twist and turns challenging the medium. In 1994, the art took a hit due to a controversy induced by a group of performance artists - the 5th Passage. The group created a series of performance as a protest following the arrest of twelve men for homosexual solicitation. The twelve men were charged and punished with three strokes of the cane, arousing Josef Ng, a performance artist, to create his work titled Brother Cane to comment on the injustice faced.
This performance criticises the authorities' punishment as Ng whips twelve tofu blocks and red dye bags with a rattan cane, drawing parallels between the incidents. The decisive cause of the controversy was the last act of the performance as Ng turned his back to the audience and snipped his pubic hair as a form of 'silent protest', asserting that it is not enough to resolve the situation. The government condemned Brother Cane, along with Ng's associates Vincent Leow for his performance of drinking his own urine, and Shannon Tham for his performance of vomiting into a bucket.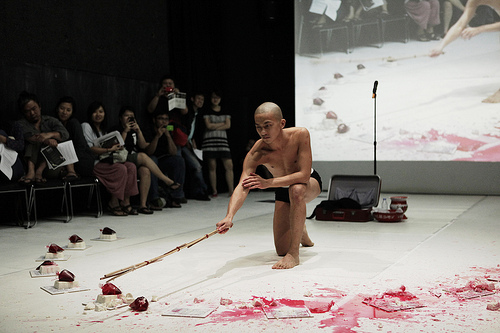 (
Brother Cane
re-enactment by Loo Zi Han)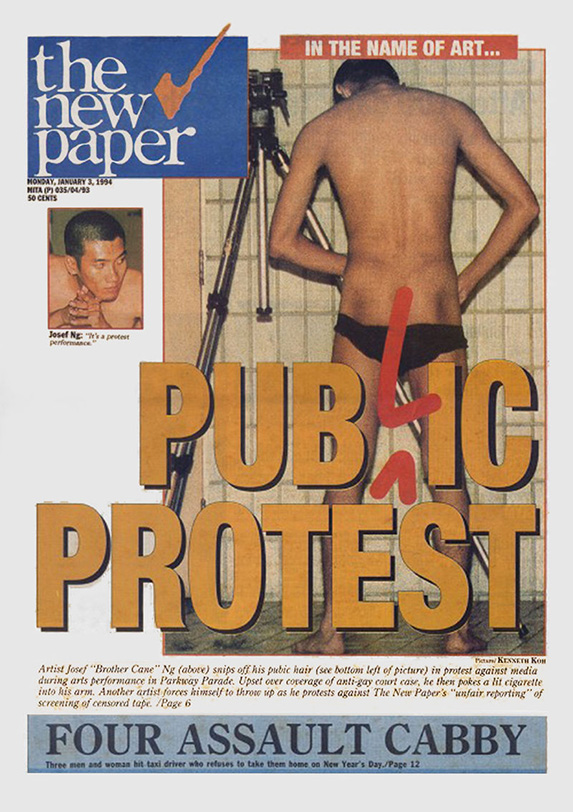 (Tabloid news report of
Brother Cane
, Image by
Sgwiki
)

Subsequent to the controversy, a ban on funded Performance Art was enacted in Singapore. The Artists Village and 5th Passage stopped receiving funding and eventually closed down. The prohibition caused a hindrance to performance artists in Singapore, as they lose their privilege and freedom in expressing themselves through this tactful art form.
Fighting fire with fire


Following the ban, Tang Da Wu responded with a pseudo-performance piece to critique the situation. The work, informally titled Don't Give Money to the Arts, is a persistent effort of Tang to ascertain the importance of free expression through Performance and Contemporary Art. Tang conducted the 'performance' by engaging in a conversation with Mr Ong Teng Cheong, Singapore's president at that time. He slips on a jacket with the words 'Don't give money to the arts' emblazoned in gold. After they exchanged greetings, Tang delivers a card which reads 'I am an artist. I am important.' The jacket is currently displayed as an installation in the National Gallery.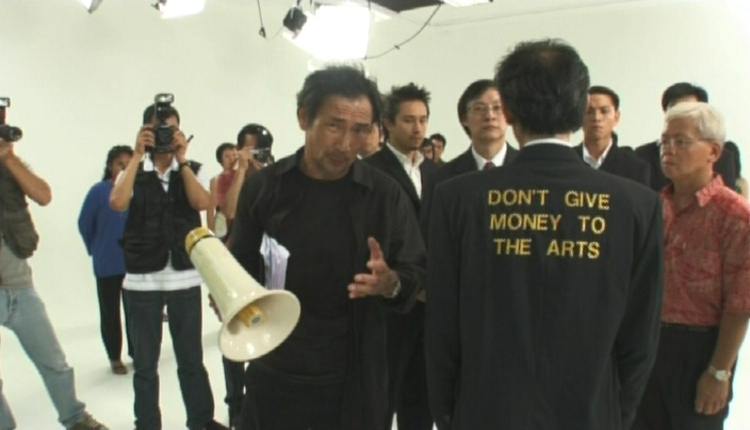 (Don't Give Money to the Arts performance by Tang Da Wu)

This 'performance' influenced the political attitude towards non-commercial Contemporary Art in Singapore. Although it does not directly address the issue of the ban, it assisted in the articulation of the situation contemporary artists faced. Along with other contemporary performances introduced, Singapore slowly embraces social change with more understanding sentiments and hospitable tendency towards the medium. The ban was eventually lifted in 2003, under consent that performance artists obtain a licence to prior and adhere to a set of regulations.

Continuation of the Performance Spirit


Amanda Heng is another distinguished contemporary artist that helped established
The Artists Village
alongside Tang Da Wu. Heng is a prominent feminist artist, introducing feminist discourse in Singapore with aggravating performance that examines themes of gender inequality and social identity.
One of her influential performance piece, titled Let's Walk, is staged locally and abroad in many countries. The performance was a response to the 1997 Asian financial crisis, where many women were compelled to adorn themselves to secure a higher chance of retaining their jobs. The performance features Heng herself with members of the public walking backwards, clutching a high-heel shoe in their mouths with individual handheld mirrors to guide the parade, a forthright statement on women's obsession with relying on the external to make themselves feel better. The use of heels denounces the sight of women adopting them to heighten sexual appeal despite having hazardous consequences, while the mirror plays with the suggestion of self-admiration and reflection. The performer/audience is silenced by the heel, highlighting women's oppression in society, while the act of walking backwards barefooted demonstrates their lack of progression.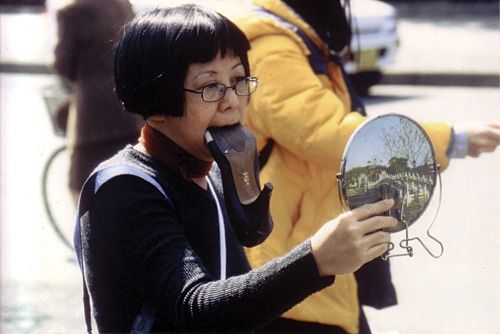 (Amanda Heng performing

Let's Walk

)



Performance Art typically incorporates readymades and props to achieve desired intentions. Jason Lim is Singapore's top ceramist, and also a performance artist that moulds the two art forms together. One of his more well-known durational performance is Inside/Outside, performed by Lim himself inside a glass box with the use of red candles. He kindles flames on the red candles, using the soot and wax produced to mark residues on the glass box. The performance illustrates the passing of time in a visually poetic fashion, presenting dichotomies such as destruction and creation, fading and surfacing, ephemeral and permanence. The audience would formulate different perspectives about the interior and exterior spaces, while the meditative performance grants serenity and composure in one's mind.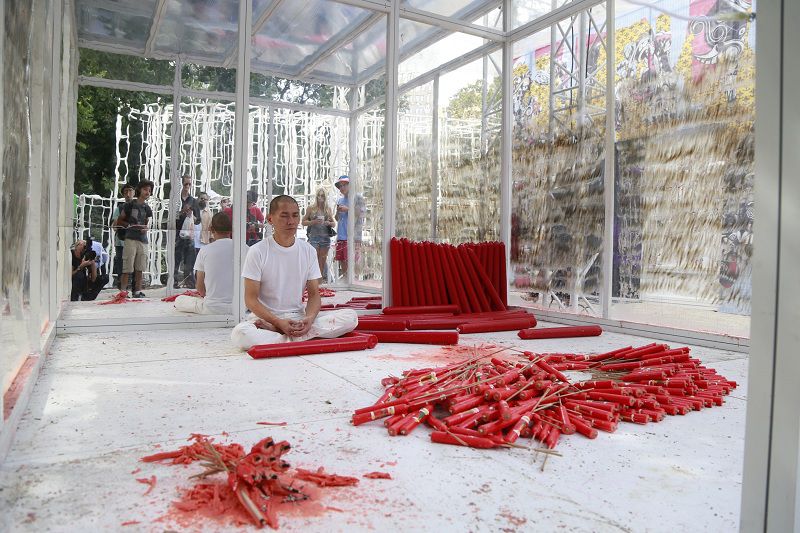 (

Inside/Outside

performance by Jason Lim)



Amalgamating performance and film, contemporary artist Joel Yuen creates his work Untitled (Working Class). The performance is staged with careful consideration, while film elements such as cinematography, sound and mise en scène are introduced in the documentation of the performative act, allowing viewers to construe the context as a film piece. He films and performs the act by himself, enhancing the authenticity of the work as the reaction of the 'audience' are captured genuinely without the presence of a crew. By upsetting public peace with a seemingly benign act of blowing and bursting a balloon, Joel's work intensifies the notion that people can easily accustom to change. A tinge of humour is imported as people regale at the priceless expressions of the passer-by(s), while tension is also present as there is an uncertainty the to exact juncture of the burst.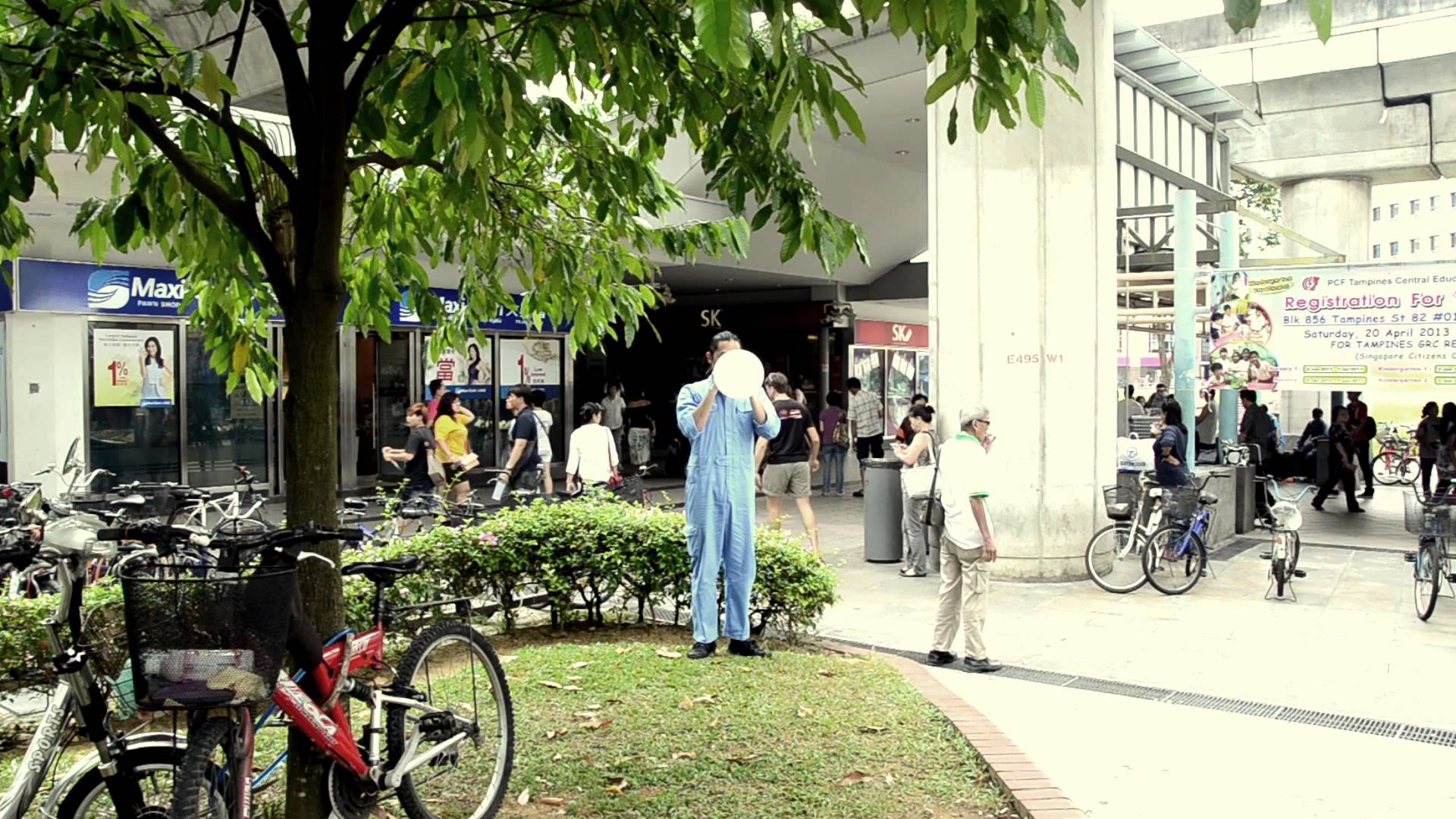 (Still from

Untitled (Working Class)

performance by Joel Yuen)



Watch the performance-film: https://www.youtube.com/watch?v=g7ebMfiZFN4

Cynthia Delaney Suwito is a Singapore-based artist who rose to fame by using instant noodles to create art. In a performance piece known as Noodlework, the artist cooks and knits noodle strands to create a tapestry for hours each day for the entire duration of the exhibition. The work demonstrates the notion of time in our modern society, how everything is frenetic and extremely fast-paced. By engaging in a slow, simple and mundane task with an 'instant' material, she leads viewers to consider the effects of a hectic lifestyle. Suwito shows a diverting way of how new materials and performance can be woven together in purposeful art making.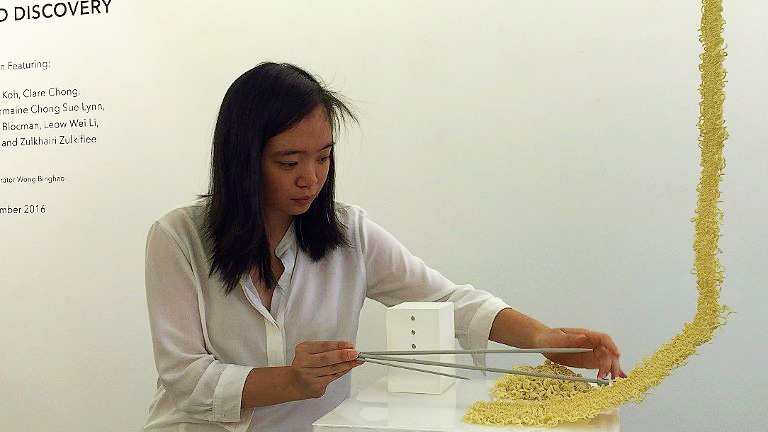 (
Noodlework
performance by Cynthia Delaney Suwito)
Audience participation allows people to become part of the performance, part of the art, a tactic that is increasingly used by performance artists. Loo Zihan levies on this approach to stage his performance works, as seen in his perplexing piece I Am LGB. The performance welcomes 100 participants, where they enter a space designed to mimic the Real Escape series of games. They are shepherd through test checkpoints to be attempted in order to leave, and require various individual and teamwork skills to pass. The piece stimulates thought about order and regulation, how the education system prioritises uniformity, acquiescence and excellence in academics.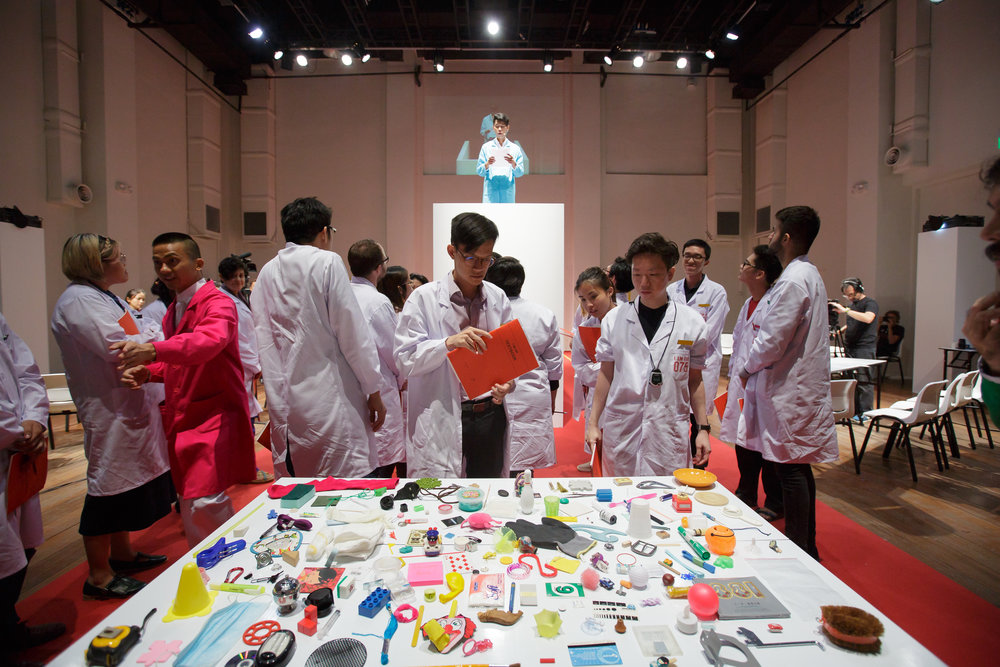 (

I Am LGB

participators in the performance space)



Performance of the Future

Performance Art in Singapore is constantly developing and diversifying. The prosperous future of Performance Art would bank on ingenious wield of the medium by avant-garde artists, campaigning for more grandeur prominence. With its interesting odyssey, the attendance of Performance Art with forever remain an interesting account. As Singapore turns the spotlight to Contemporary Arts, we are sure to expect adroit and newfangled performance works close to our hearts.